Arapahoe Credit Union Free Shred-a-Thon
...and Electronic Recycling 
Supporting Newton Middle School
We are providing fully-paid, onsite shredding. We'll also take donations to Newton Middle School.
Free for Both Members and Non-Members
April 14th, 2018 at the Newton Middle School Parking Lot
Don't miss ACU's annual Shred-a-Thon in partnership with Colorado Home Mortgages. A free community shred and electronic recycling event with shredding, prizes and gift giveaways! This year's event supports Newton Middle School. All optional donations go unrestricted to Newton school programs.
Feel free to bring any documents for ON-SITE destruction (watch it happen!). Bring old bank statements, check registers, receipts and anything else with personal information on it. Additionally, feel free to bring your small electronics and we will get those recycled as well! (Unfortunately, we are no longer able to accept ANY box/ tube/rear projection screens. We also are unable to offer electronic data destruction.)
9:00 am until 2:00 pm
This round, we are back in Newton Middle School's parking lot just off of Arapahoe Rd and Colorado Blvd! We have two shred trucks coming to keep things moving.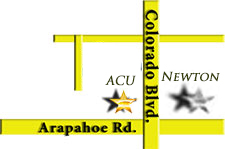 Directions: Head to the corner of Arapahoe Rd. and Colorado Blvd. where you will see our branch on the west side and Newton MS on the east. Head north on Colorado and take your first right into the parking lot where you will see the shred trucks. Address: 4001 E. Arapahoe Rd, Littleton, CO 80122 . We will have signs to help you get where you're going.
What to Bring
For shredding, we can take almost anything. Additionally, please note that newspapers and junk mail do not need to be shredded - documents are all crooks are looking for.
In some cases, we may be able to provide advance drop-off options. Call us at 303-740-7063 and we will see what we can do for you!
Electronic Recycling
As for electronics, we will take your small electronics with an on-site truck. As always, we will try to accommodate everything we can, but there are some restrictions. Unfortunately, we are unable to take any tube televisions/monitors, refrigerators or alkaline batteries. We may additionally refuse other electronics if we have to (at our discretion), but again, we will do absolutely anything we can to get you taken care of. For a complete list of acceptable electronics, click here.
While trusted, Data Destruction's site is subject to their terms and conditions and not owned by ACU.
Shredding Services are Free
Colorado Home Mortgages and Arapahoe CU are covering all expenses for this event. However, we will also be taking donations. Additionally, cash and check donations will go directly to Newton MS to help out their school programs.
Please note that Colorado Home Mortgages is our partner for first mortgage origination. They own and operate their own site independently of ACU.